Welcome to Bodegas!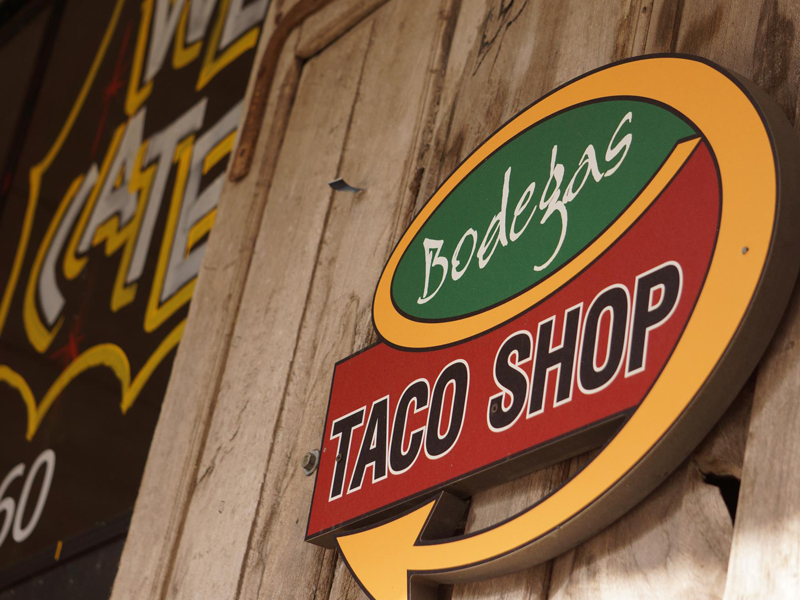 Welcome to Bodegas Taco Shop! Our casual Mexican restaurant and tequila bar is perfect for a night out with friends or a celebration with family.
We offer delicious salsas, a spacious patio for outdoor dining, a diverse menu, and outstanding top-shelf margaritas. In fact, we were voted "Best margarita in Houston"—twice! We are honored that Houston Press voted us the "Home of the Best Margarita Around" in both 2009 and 2013. Come on in and see what all the buzz is about!
About Us
Our locally owned taco shop has some of the best food around. And did we mention our margaritas?
Our shop has an artsy, creative, family vibe that is indigenous to Houston's finest art, history, and science museums. We are the only restaurant right in the heart of Houston's Museum District- In fact, seven of the major museums in Houston are within one block from us! So if you're looking for a truly authentic Houston experience with the influence of Mexico, then try Bodegas today.
We are open Monday through Thursday and Sunday from 10 a.m. to 10 p.m., and on Friday and Saturday from 10 a.m. to 12 midnight.
Our Great Bar Menu
We invite you to pick your poison with our diverse bar food menu. From "Mexico City" Street Tacos to Fajitas "La Bodegas," we have something for everyone. Perfect food to go with our famous margaritas or handcrafted cocktails.
Try Our Fax Menu for Pickup
Want a convenient way to enjoy our food? After checking out our fax menu, just fax us your order. It will be ready in no time for you to pick up and enjoy at home, the office, or the park!
Having a Fiesta? We Cater!
Need to feed a lot of people? Need great food at great prices? Call us! We have a catering menu that is sure to please your party guests—and food and price options that are sure to please you! So give us a call and let's plan that fabulous fiesta!
For more details about all that we offer, please visit our Menus page!